Spain is growing in popularity among travelers but it's not just the beaches and culture that keep people coming back! Spain's culinary scene is taking off so if you're planning a trip of your own you owe it to yourself to do a little research on the area's best dishes after you renew your passport. Here are three must-have dishes for any true Spanish adventure traveler…
Pulpo a la Gallega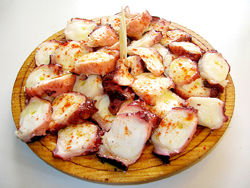 Literally meaning, "Gallican Octopus," this dish is delicious if you can get past the visual. Boiled octopus garnished with paprika and rock salt is actually a national delicacy. Here you are the recipe.
Spanish Omelet
This omelet isn't like what you're used to in the states. More like a frittata, the Spanish Omelet is cooked in a pan with eggs with potatoes and onion.
Patatas Bravas
Designed for the strongest of stomachs, these fried potato chunks covered in a spicy tomato sauce make even the most experienced Spaniard blush!
Verified on Po.et
April 25th 2018, 10:48